Overlay Panel – Benefits
Easy Install Overlay Panels Now Available from JCW
The time-saving and hassle-free underfloor heating overlay panel is used as a floating floor (F/F) for heating on a load-bearing floor that requires additional insulation. It is suitable for installation on an existing ground slab, intermediate floor, or cellar space.
It is available in various thicknesses and has grooves for aluminium heat distribution plates. The heating pipe loops are pushed easily into the aluminium grooves, ensuring heat is evenly distributed over the floor surface. The final flooring is installed "floating" over the heating installation.
Applications for use
For renovation and new-build
Ideal in cellars
Perfect for insulating intermediate floors
Suitable under all types of final flooring
Click Here to find out more about our overlay panels!
The Overlay panel is a unique, low-profile floor heating system, ideal for both renovation and new build projects. The overlay system is perfect for existing floors – where height may be an issue – as it is installed over the existing floor.
The overlay floor panel is a fibrous panel, used for heavyweight floor coverings such as ceramics, or where the floor covering needs to be secured directly to the overlay panel, e.g. solid wood.
They are glued to the existing floor using a special glue. A levelling compound may be needed to take out imperfection in the floor, prior to installation of the boards.
The other options that are available are overlay panels with a foil faced finish  grooved out to various sizes with returns or a plain Eps board in various thicknesses which would require an aluminium plate on top.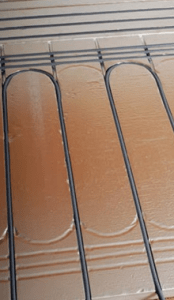 For more information on the overlay panel and other underfloor heating component products supplied by JCW underfloor heating, please call us on 01204 548 400